The question of the "best" upgrades to get for your shocker fall mostly to personal opinion and your play style.
Here I intend to make a comprehensive list of available upgrades for the Smart Parts shocker and the pros and cons of each. This is a large list and a big undertaking so information will be added as I finish it on here.
Bodies:
For the shocker there were no bodies produced that were simply aftermarket bodies. The only way to have a different bodied shocker is to find yourself a private label shocker. Now quite often in these days you can find shockers for sale that are a conglomeration of different parts with a private label body. They are quite common now. Many times you can find someone parting out a shocker thats a private label for has a PL body. This is the best way to find one. Here is the list of PL shockers that exist and you may see bodies for.
SFT Shocker
-Octane Shocker from Badlands Paintball
-Nasty X Shocker from paintballwholesalers.com
-Strange Shocker from Strangegear.com and Team Strange
-Shocktech Shocker from Shocktech Paintball
-Toxic Shocker from Toxicperformence.com
-Dynasty Shocker from Team Dynasty
-2006 Dynasty Shocker from Team Dynasty and PunishersPB.com
-2006 Dynasty Prototype "Waffle" Shocker (Originally 49, there are now only 48)
-TonTon Shocker from Team Tonton Flinguers
-Dark Shocker from WarpedSportz Paintball
-Hybrid "Traitor" Shocker from Hybrid Paintball
-Freeflow Shocker from Freeflow Technologies
-GMAX Shocker from Smart Parts
NXT Shocker
-Naughty Dogs Shocker from Team Naughty Dogs
-Evil Shocker from Evil Paintball
-Russian Legion Shocker from Team Russian Legion
-Tremor Shocker from Team Tremor (100 exist)
-Dynasty Shocker from Team Dynasty
-Shocktech Shocker from Shocktech Paintball
-Hybrid Shocker from Hybrid Paintball
-Octane Shocker from Badlandspaintball.com and Octaneshocker.com
-TonTon Shocker from Team Tonton Flinguers
-Nasty Shocker from paintballwholesalers.com
-Strange Shocker from Team Strange
You can see examples of these shockers down in the SFT and NXT picture threads in the PL guides topics.
Frames:
For the most part the aftermarket frames you find on most shockers are AF frames that were part of another private label gun and were parted out.
There are however five different frames that were not PL frames available for the Shocker.
-Fist and by far the most common is the CCM Rip Frame. It features an elongated and integrated snatch grip, an adjustable micro switch mount, came stock with a bearing trigger that could support the flipped micro switch "mod", and is lighter than the stock frame. Fits SFT and NXT Shockers and Nerve.
-Second we have the Logic USF (Ultimate Shocker Frame) Frame. This frame takes a standard .45 style grip but has a more substantial angle to it. It also features a nice palm swell and an integrated dovetail mount. Fits SFT and NXT Shockers and Nerve.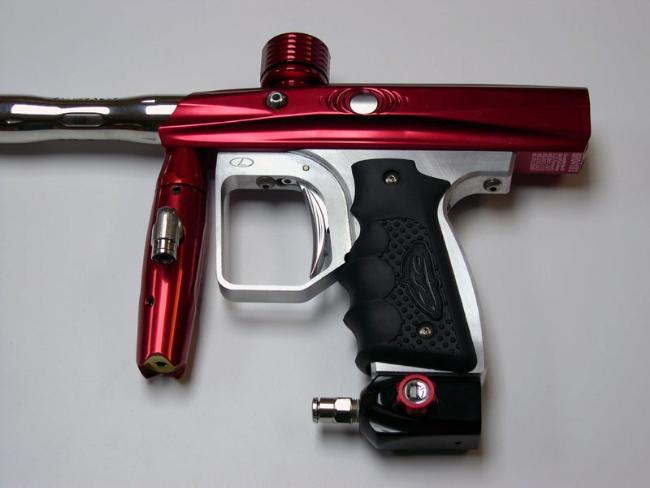 -Third is the Logic 90° VS Frame. Frame is at a 90° angle. The other feature it includes is a standard polarity magnet set instead of the common reverse polarity. It takes it own specific grips. Fits SFT and NXT Shockers and Nerve.
-Fourth is the SpeedCustoms Speedy Frame. There are many features to this frame so i will list them as dictated by SpeedCustoms.
This frame was designed to fit the Smart Parts SFT/NXT Shocker
Clamshell design; allows the player to split the frame into two halves and access the internals.
Upper-board anti-screw break.
New adjustable delrin trigger system.
TRIPLE ball bearing trigger system; eliminates side slop.
Attracting magnetic trigger return.
Lightweight design puts this frame under 5 oz.
Milled dovetail with standard ASA holes.
Integrated snatch grip.
Internal milling separates wiring from trigger assembly; you will never have any interference which results in the smoothest trigger on any Shocker!
Break Beam Eye ready; the frame has internal space that allows for extra room when it comes to wiring. Eye wiring will never interfere with the trigger. (Break Beam Eyes need to be purchased separately)
Ergonomic design for the ultimate feel and control.
Accepts standard 45* grips.
Includes hardware/screw kit.
-Last is the Freeflow 90° Frame. These are pretty rare and I personally have only seen a few for sale. They offer the same comfort level as the Logic 90° Frame. Takes Angel IR3 style grips. Fits SFT and NXT Shockers and Nerve.
High Pressure Regulators:
The SFT Shocker uses normal regulator fitted threads. There fore any regulator will fit on a shocker except for the new DM threaded regulators and the specialized Angel regulators. A list of the most commonly used regulators on shockers is as follows.
-Custom Products
-Dye Hyper 2
-Hybrid Gladiator
-Bob Long 360
-AKA 2 Liter
-AKA Sidewinder
Low Pressure Regulator:
Yes they do exist. I own one the Evil LPRs and can vouch for its performance. My LPR shocker currently shoots consistently at 140 psi.There are four ways to have an LPR on your shocker.
-Use a replacement vertical adapter that incorporates a LPR adapter. These were made br New Designz and are very hard to come by. They were made to use existing LPRs like the ANS Jackhammer II, Smart Parts Impulse LPR, and could also fit many LPRs made for the Autococker.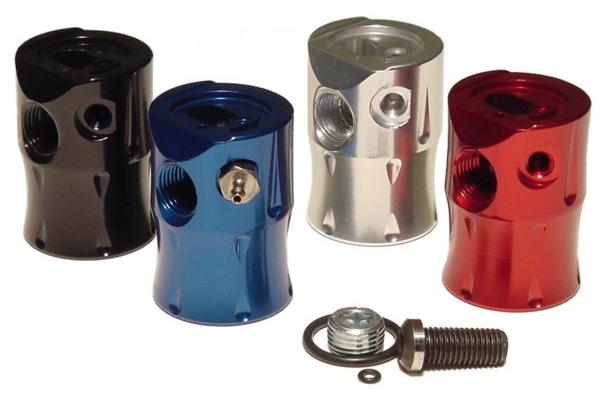 -Second was the Evolve Paintball LPR adapter. This was the same in functionality to the NDZ piece seen above. These were not made for very long and are extreamly rare.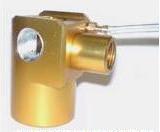 -Third was the Freeflow replacement vertical adapter that had its own small LPR intigrated in to the vertical adapter.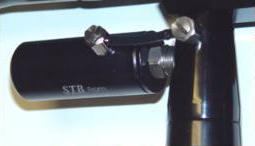 -The last product to put an LPR on your shocker is the most commonly found one of the four. Evil Paintball (then under PMI) built a replacement vertical adapter that housed an intigrated LPR. This was also the last of the four to be produced and actually works quite well.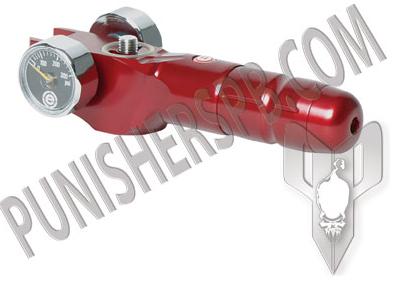 Bolts, Cans, Sleeves, Bolt Guides, and Full Bolt Systems:
First off are the bolt available for the shocker and the differences between them.
We are going to put a picture of a stock bolt up here for refrence.
-Smart Part HE "Turbo Charger" Bolt
This bolt came from Smart Parts around 2004 and was a drop in replacement for any shocker. It cam with the HE Can, and between the two created a sealed bolt system. Note the o-ring towards the top of the bolt and to go with this the removable top of the can vice the stock system.
-New Designz Stinger V1, V2, V3 Bolt Kit
These bolt kits made my NDZ were able to allow the shocker to perform at pressures around 180 psi. The older versions had many problems and were quickly replaced up to the version 3. They went through versions 1 and 2 so quickly that its nearly impossible to find and old version. this is also due to the fact that when NDZ came out with the new versions they allowed people with the older versions to trade them in to receive the new one for free. The current V3 bolt kit comes operates in the same way as the SP HE bolt kit, creating a sealed bolt system. Now while the bolt doesnt change between the guns, the Can is. NDZ made a long list of Cans, and are as follows. SFT Shocker LP Can for milled bodies, LP Can for sealed bodies, ULP Can, and the NXT Shocker LP Can. The SFT milled LP Can can be used on all sealed body SFTs including Nasty, Dynasty (pre-06), Strange, Octane, Toxic, Tonton, stock SFT Shocker, Evil NXT, Dynasty NXT, and Naughty Dogs NXT Shocker bodies. The SFT ULP Can can be used in the sealed body guns listed above execpt for the stock SFT body.
Un Milled SFT LP Can
Milled SFT LP Can
ULP Can
NXT LP Can
Stinger Bolt
-Evolve V1 and V2 Bolt Kit
The Evolve kits use a slightly different system to make the same sealed firing chamber effect. These bolt kits come in two different types for Version 2, standard and ULP.
The standard version allows for operating pressures down to around 180 psi. The ULP version drops it down another 10 psi to 170 psi. Both versions of this bolt kit only work in sealed body shockers. These include the Nasty, Pre 06 Dynasty, Strange, Octane, Toxic, and TonTon Shockers.
Standard Evolve Bolt Kit
ULP Evolve Bolt Kit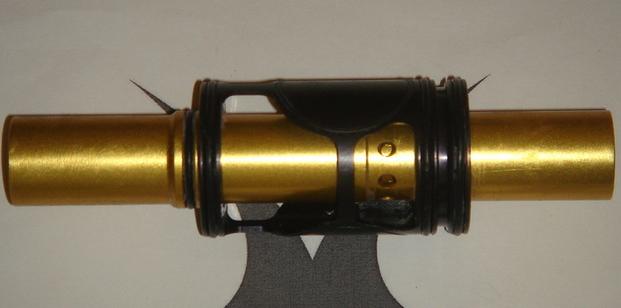 -Freeflow V1, V2, and V3 Bolt Kit
The Freeflow bolt kit came stock in the Freeflow SFT but was also available for purchase seperately from Freeflow Technologies. The FF bolt kits were plagued with problems of improper sealing and leaking and were eventually brought out of production. They allowed the shocker to operate at about 200 +/- 10 psi. They also came in multiple colors to match your gun.
Freeflow Bolt Kit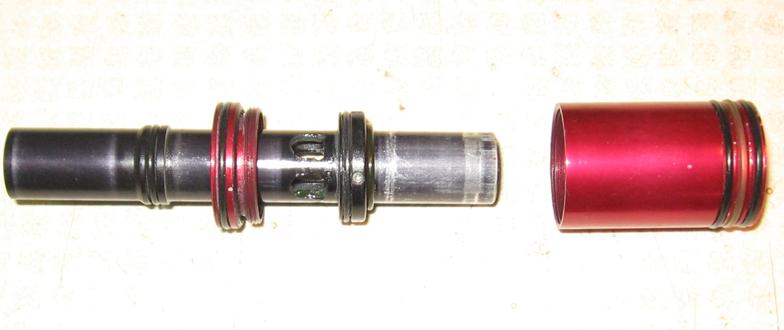 -NOX Kilo and NV Bolts
These bolts are made out of a high strength polymer for a super light but effective bolt. They are designed to reduce kick, create faster cycle times and lower operating pressure. They are very popular due to the fact that they work very well with other HE cans and sleeves. Spring mods with this bolt is also popular.
NOX NV Bolt
NOX Kilo Bolt
-Hybrid Bolt Guide
These bolt guides offer no performance changes what so ever. It does however make access to you bolt system tool-less.
Hybrid Bolt Guide
-New Designz Adjustable Bolt Guide
The NDZ bolt guides alow you to adjust the travel time of the bolt. This is intended to help your shocker operate better at lower pressures.
New Designz Bolt Guide
Triggers:
There are a decent amount of triggers available for the SFT and NXT shockers. Most PL guns came with their own special trigger. There are however quite a few after market triggers out there. For this I will just be listing the companies that make Shocker triggers due to the large amount of specific triggers each company makes. A few pictures will be included.
-Custom Products
-New Designz
-Critical
-Violent Products
-Shocktech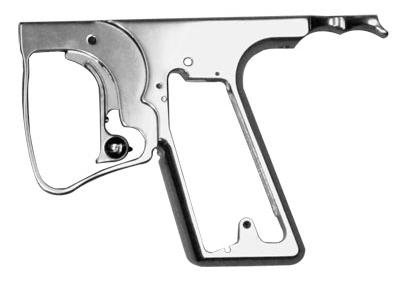 -Speedcustoms


Last edited by Sweet V on Mon Mar 19, 2012 6:54 pm; edited 8 times in total